Have I got a treat for you! It is so good that I had it for breakfast! While I was stalking
Pinterest
one night, I found a recipe for a single serving of chocolate chip cookie dough that is safe to eat because it contains no eggs. That's right. I said it. Safe to eat chocolate chip cookie dough. I have heard that you can make this but I have never looked for a recipe. Since I stumbled upon this one, I decided to try it. You can find the original recipe
here
.
First, I mashed my butter. You need 1 1/2 TBSP of it.
Then, you add the dry ingredients. You need 3 TBSP flour and 2 TBSP sugar. I used 1 TBSP white sugar and 1 TBSP brown sugar.
Then, mix everything until it is crumbly.
Next, add a splash vanilla and the milk, a little bit at a time. Add enough to make it a cookie dough consistency. You will need a little less than 1 TBSP milk. (The original recipe doesn't call for vanilla. But I had to have it.)
Add the desired amount of chocolate chips and enjoy! I stuck mine in the fridge for a few minutes because I like it cold.
I'm linking up to Made From Scratch Tuesdays with
From
Mess Hall to Bistro
! Enjoy!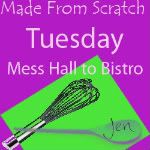 Also linking up to Tasty Tuesday over at
For the Love of Blogs
!